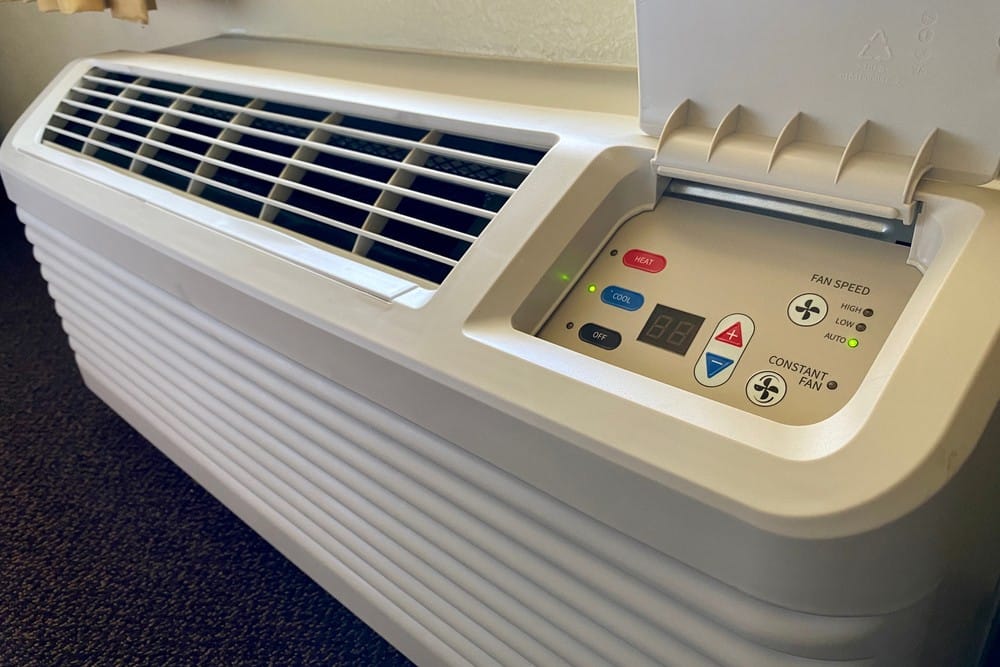 A PTAC (Packaged Thermal Air Conditioner) is a heating, venting, and cooling (HVAC) system that goes through the wall with vents leading directly from the interior to the exterior of a building.
In contrast to central air conditioning, the PTAC allows consumers to get complete control over a room's climate in one condensed unit without relying on a duct system necessary in a home or window A/C.
Where are PTAC's installed?
They are used under the windows of many hotels and motels, hospitals, senior residential facilities, apartments, and residential add-ons, like sunrooms. With the increase of people purchasing tiny homes, they have become popular for both heating and cooling, as they take up little space.
What does a PTAC do and how does it work?
A PTAC unit can be used to distribute both warm and cool air. For cool air, the compressor pumps refrigerant to cool the coils. Once the coils are cool, they attract heat and humidity in the environment and exhaust them to the exterior of the building. For heat, this process is reversed by pumping refrigerant to heat the cools, which attracts cold air and displaces it with warm air. The warm air is usually generated by the building's water system, which the PTAC unit needs to tap into.
What are the benefits of a PTAC Unit?
PTAC units provide a highly efficient, compact, and intuitive way to control climate in their own homes and buildings. Commercial buildings benefit from installing PTAC units. In residential homes, a PTAC unit can be added to areas like lofts and attics that are hard to cool. It guarantees exceptional indoor comfort throughout the year. When you want cool fresh air inside the room, the PTAC system sucks air from the outside directly through a vent positioned on the back. They also work well in sunrooms. Using a PTAC in these places means the homeowner does not have to add new ductwork that's connected to the existing HVAC system.
Other Benefits are:
Energy Efficiency Ratios can be as high as 12.2 compared to window units.
Simple maintenance with removable and cleanable filters.
Smart controls allow for flexible running times and energy saving.
Electronic temperature limits prevent excessive use.
They're designed to operate quietly, unlike most other options in the market.
How long do PTAC's last?
PTAC units could last up to ten years, but advancements in energy efficiency and smart technology may entice consumers to replace them every 5-7 years.
How often should a PTAC unit be cleaned?
PTAC manufacturers suggest having a complete cleaning at least once per year or more if required. In dusty or corrosive environments such as near construction sites, cleaning should be performed more often, sometimes up to four times a year.
Lakeshore Cleaning & Restoration uses our 6-step vacuuming, sanitizing & high-pressured steam cleaning process. Once the unit has been cleaned, we place a sanitizing bar in the pan to keep the unit smelling fresh until the next cleaning in 12 months' time. The cleaning of PTAC units on a regular basis allows for better airflow and increased efficiency.