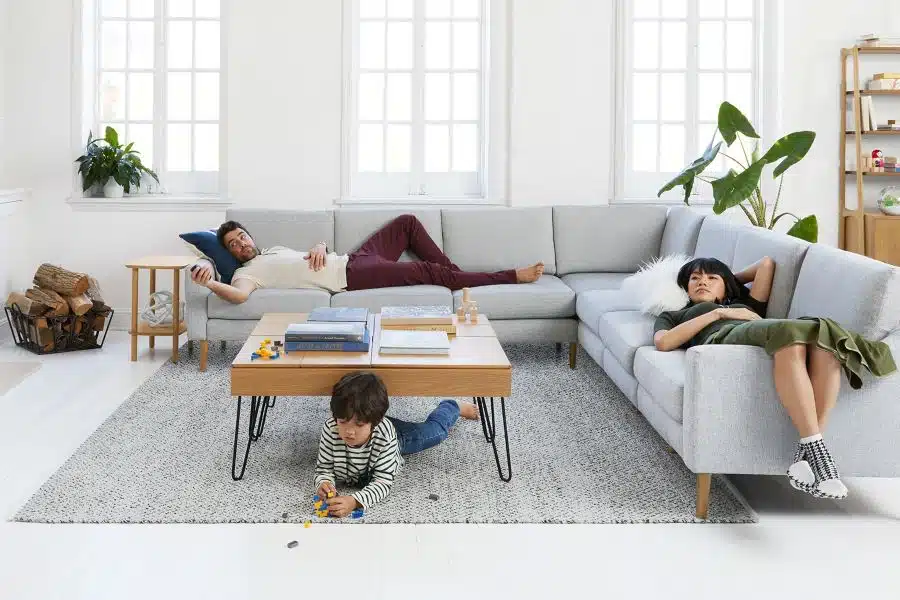 A beautiful area rug can make your home seem cozier and inviting, but finding the best one for your space can be challenging to do on your own. With so many different styles, colors, materials, and designs out there, it's easy to feel overwhelmed when you're trying to pick one out on your own. So here are some tips that will help you choose the best area rug for your home!
Types of Rugs
There are many different types of rugs that serve a variety of purposes. Here is an overview of common rug types.
Knotted Rugs – A knotted rug (also known as a hand-knotted rug) is more expensive than a non-knotted rug, but some people will pay extra to get that classic look and premium feel. If you're planning on choosing a knotted area rug for your home, consider where it will be placed. Bigger rugs need more space to have any effect on your home's decor, so measure carefully. Also, think about how you plan on caring for your new area rug.
Tufted Rug – This style is an easy way to add a sophisticated touch to your home. Plus, because it's so dense, you'll get a lot of use out of it before needing to replace it. However, you may find tufted rugs aren't ideal if you have children or pets in your home—they can snag easily. The added density also means tufted rugs are heavier than other styles and often difficult to move around.
Braided Rug – Dutch weavers originally used braid rugs; they've become a big trend in contemporary and modern design over time. Their braided construction makes them very durable, as well as flexible enough that you can turn them without worrying about breaking them. That said, there are all sorts of different styles—from vintage-style braids to those made from natural materials—so it's essential to choose carefully based on your personal preferences.
Shag Rug – A shag rug is a popular floor covering that's made from wool, nylon, or a combination of both. They have a very dense pile, which helps them hide dust and pet hair. Shag rugs come in various colors, and they don't require too much maintenance—just a quick vacuum every week will do! A shag rug can really update any room of your home.
Rug Shapes
There are three basic shapes of rugs, all commonly used in today's homes: square, rectangular and oval. Which shape is best? The shape depends on your home's layout but also on your tastes. For example, rectangular area rugs can give a room with an L-shaped or U-shaped floor plan more visual coherence.
Size of the Rug
If you have high-traffic areas, you need an area rug that can stand up to wear and tear. For these busy spots, look for rugs made of sturdy synthetic materials like polypropylene or nylon; wool is also a good option. High-traffic area rugs can be more expensive than traditional decorator rugs, but they're essential if you want your floors protected against damage.
Rugs for High-Traffic Areas
If there is a lot of foot traffic in your home, look for an area rug that's specially designed to handle high-traffic areas. While wool rugs are beautiful and luxurious, they might not be ideal if your family spends a lot of time in your living room. In addition, some wool rugs are too delicate for high-traffic areas, so stick with synthetic or cotton rugs if you don't want to spend time replacing them every few years.
Cleanliness of Rugs
No one wants to live on top of a nasty rug. Make sure that your new rug is clean and healthy before you bring it home. You'll need to wash your rug regularly, especially if you have kids or pets, so keep that in mind as well. If there are special cleaning instructions included with your purchase, be sure to follow them! Keep an eye on whether or not your potential purchase includes any additional accessories—like cushion pads—that will also need care.
Rug Materials
With thousands of area rugs available, it's important to know exactly what you're getting in your rug. Natural materials like wool tend to be more expensive than synthetic fibers, but they are higher quality and last longer. If you have pets or kids running around, opt for a synthetic fiber—or at least avoid wool if your home is prone to accidents. Hand-tufted rugs will come with a higher price tag than machine-made options.
Cost
Buying an area rug can be quite costly, but if you have your eye on a fancy piece of artwork or want something that adds some color and texture to your home, it's certainly worth spending a little extra. The first thing you'll need to decide is whether you want hand-tufted, machine-made, or custom-made rugs.
As you can see, there are many options available when choosing an area rug for your home. It is important to consider not only how it will look but also how it will feel underfoot. We all want our homes to be inviting and relaxing, so we hope these steps will help you choose a perfect rug for you!
Caring for fine area rugs is a love affair for us at Lakeshore Cleaning & Restoration. We have a deep understanding of the science of rug washing. 
Call us today to get a quote at (905) 465-2337
Lakeshore also offers Commercial Carpet Cleaning for businesses and home offices.
Reference: Area Rugs do More than Decorate a Room