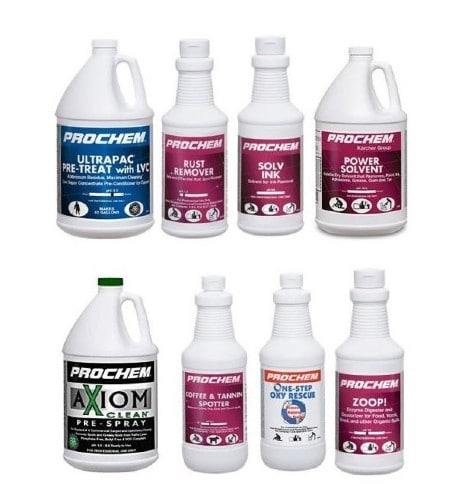 As you explore many carpet cleaning products, you'll quickly discover that ProChem offers many options for keeping your carpets and upholstery clean and fresh between deep cleans. Using one of these speciality products in conjunction with the carpet cleaning professionals gives you everything you need to properly maintain your carpets and upholstery, saving you time and money over time, while also helping your carpets look their best! 
Here are some of ProChem's most popular products for carpet cleaning.
Ultra-Pac Pre-Treat with LVC
Whether you own a multinational corporation or are merely trying to keep your home's carpets looking their best, one of ProChem's carpet cleaning products is sure to fit your needs. Prochem's most popular product for carpet maintenance is Ultra-Pac Pre-Treat with LVC. This proprietary blend helps brighten stains on carpets, leaving them with a lustrous look that makes customers go wild for your business.
Axiom Clean Pre-Spray
This carpet cleaner works as a pre-spray to help remove tough dirt and grime from your carpets prior to main carpet cleaning. It's a colourless, non-staining cleaner that you can apply either manually or with your extractor machine. In addition, axiom Clean is an environmentally friendly solution that dries quickly, leaving no residue. To use, mix 4 fl oz of Prochem Axiom Clean Pre-Spray with one gallon of water.
Citrus-Gel
Cleans tough spots, gums, and spills on carpet. Contains no harmful chemicals, and is safe for use around children and pets. 
Power Solvent
Prochem's Power Solvent is a concentrated, non-toxic stain remover that can remove tough stains from carpet and upholstery. It has been specially formulated to tackle heavy dirt buildup from pets, grime from food spills, oil spots, and various other difficult-to-remove stains.
Coffee & Tannin Spotter
The Coffee & Tannin Spotter is designed to remove coffee and tea stains from the carpet. So if you spill your morning cup of joe on your beige rug, grab some Coffee & Tannin Spotter immediately and treat it before it dries.
One Step Oxy Rescue
If you're not satisfied with your carpet's cleaning, it may be because of dirt that hasn't been removed. If you want to avoid spending more time cleaning later down the road, use Prochem One Step Oxy Rescue after you clean your carpets. It will help ensure that stubborn stains are removed before they can set in. Just spray it on and wipe off for a high-quality clean every time!
Rust Remover
The best way to remove rust from your carpets is with Prochem's easy-to-use Rust Remover. Available in either powder or gel form, it will easily dissolve rust stains while lifting out dirt and grime—leaving you with a clean, fresh carpet that looks like new! Simply apply Rust Remover to any area of carpet affected by rust, let it sit for at least 10 minutes (the longer you leave it on, the better), and rinse away.
Solv-Ink
Solv-Ink is designed to safely remove dirt, stains, and grime from carpets while eliminating that stale or musty smell that can come with long-term use. 
Zoop
It's a unique blend of ingredients that goes to work when diluted with water and put on a dirty surface. And if you want to keep your carpets looking great without too much work, try ZOOP as your go-to carpet cleaner.
Services