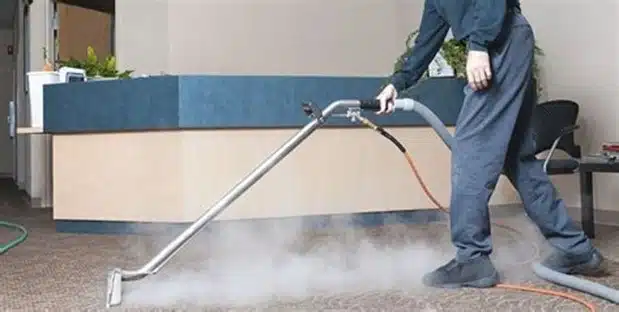 Apart from having a clean appearance, there are other reasons for keeping the floor of your office and commercial space spic and span. A clean and dry floor means fewer injuries, lower health hazards, and a far better environment for your staff and visitors, and customers. Here are our top cleaning tips for two types of commercial flooring:
Commercial Carpet Floors
Different fibers are used for commercial carpet floors like polypropylene Olefin and Nylon. It feels more homely and helps reduce noise while filtering the air as well. Keep these recommended supplies handy always:
Air mover
Carpet drying fan
Carpet cleaning solution
Vacuum
3 regular cleaning methods
For all the methods below, the first step is to vacuum the carpet, follow the specific process, and finally re-vacuum the carpet and use an air mover.
Dry foam method: 
Use a carpet cleaner to apply a solution of carpet detergent and water.
Mix a solvent of water and foam carpet detergent.
Walk ahead with your carpet cleaning machine, applying the cleanser at the same time.
Use a carpet brush for scrubbing.
Encapsulation method: 
Spray with encapsulation and let it sit for a few minutes.
Work the solution into the carpet with a bonnet machine.
Using a bonnet machine, work the solution into the carpet.
Bonnet Pad Method: 
Evenly spray a dilute solution of water and bonnet cleaner.
Use a bonnet machine over the carpet.
Two yearly cleaning methods:
To remove deeply embedded dirt, grime, and soil from carpet flooring requires a far more intense cleaning process annually.
Shampoo method: Any commercial carpet that needs deep, restorative cleaning will require a brush's forceful cleaning ability to make this process effective.
Hot water extraction method: This is also called steam cleaning. It is also an effective way of deep, restorative cleaning.
Commercial Tile Floors
The durability, low cost, and easy maintenance make commercial tile flooring such a popular choice. It is a good decision to keep these recommended supplies handy at all times:
Broom
A neutral cleaner with a pH value of 7
Detergent
Water
Automatic scrubber and mop
Bucket
Air mover
Regular cleaning
Steps and tips:
Sweep and vacuum the area.
Use an automatic scrubber to scrub and mop the entire floor with a solution of detergent and water.
Dry the floor.
Use an automatic scrubber to apply a diluted solution of water and a neutral cleaner in the cornets and most-used areas of the floor. For every gallon of water, use one ounce of neutral cleaner.
Use the air mover to dry the floor.
Let the area remain unused for at least half an hour to avoid any mishaps.
Strong cleaning
Clean arrogant stains and scuffs by following these tips:
Strip the wax coating of the floor with a strong, concentrated cleaner. 
Mop in a different, non-traditional, crisscross pattern.
Increase the cleaner concentrate in the solution to make it more effective.
The best solution is to avail the services of professional cleaners. They will provide one-stop cleaning solutions and help make your commercial space look the best at all times.