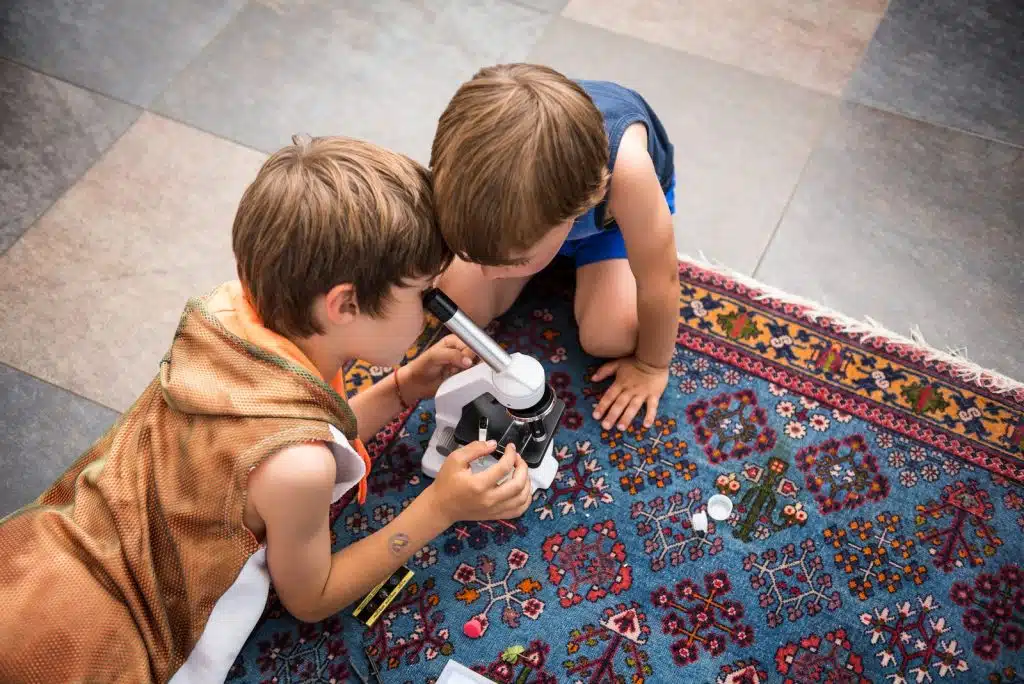 Depending on the type of area rug you love, it could be a bit of an investment, so here are other reasons to choose an area rug.
Hardwood floors are trendy. You see them in new home builds as well as condos. Is it the ease of keeping them clean, or less expensive than wall to wall carpet, or is it a trend? 
Most likely a little of all of the above, but you know that standing on hardwood or tile flooring can make your legs and back start to ache for any amount of time. That is the reason you see cushion carpet pieces by the cashier's till. It makes their work that much more comfortable. 
Adding a colourful area rug to the bare floors not only adds aesthetics, it gives more comfort to your body. Plush area rugs put a little bounce in your walk. If you prefer to lounge on the floor watching TV or playing video games, a cozy carpet feels much better than a bare floor. Less wear and tear on your furniture too!
As the cooler months roll in, you want to feel warm and cozy, and area rugs are perfect for providing warmth and insulation. Heat can escape the spaces in hardwood flooring. So by covering a specific area in your living room, bedroom, or family room, you are saving on heating costs.
Walking across hard floors lets everyone know you are home. The clicking of high heels or leather soles can be noisy, plus keep in mind the slipping factor. Carpet and area rugs are most definitely quieter and add a safety element. Children fall down, and it hurts more on hard floors than a comfy rug. Your pets will be happier when they are not sliding across the room and banging into furniture or the wall playing with their favourite toy. Oh, and let's not forget the furniture shifting around on the hardwood flooring rather than sitting firmly on a carpet.
Contrary to what some people think, rugs and carpets do not make allergies worse, and in fact, they could be more beneficial than bare flooring. Carpet can trap pollutants and dust that aggravate allergies, so they are not airborne. 
A study published in 2018 commented, "To our knowledge, there are no publications that report on deposition of pollutants and adverse health outcomes associated with modern rugs."
Now that we have covered the practical basics, we want to talk about the decorative aspects of area rugs. There are so many beautiful styles, colours, thicknesses, and shapes available for area rugs these days that you can design every room in the home around one. Bright patterns in a neutral room will undoubtedly give it a boost of luxury. Neutral tones can enlarge the space when they match the furniture, and you can add colour with accessories. If you are looking to separate space in one large area, you can put a smaller area rug under the furniture. 
For renters who cannot decorate with anything permanent, area rugs are a perfect option for designing a space that represents your unique style.
Finally, let us talk about carpet cleaning.
A question we often hear is – Is my carpet even worth cleaning?
That is a personal decision based on emotional attachment to the rug and the replacement value of the carpet. When you design a whole room around their Oriental rug, replacing it could require re-furnishing the entire room. It may be cheaper to clean the carpet.
Is it time to clean your rug? You can try simple tests:
Rub the rug with your hand and you see dirt, it is time for cleaning.
Kneel on the rug and smell it. If you detect an odour, better have it attended to.
Lift a corner of the rug corner and shake it to see if there is a dust cloud forming, it is time for a cleaning
Caring for fine area rugs is a love affair for us at Lakeshore Cleaning & Restoration. We have a deep understanding of the science of rug washing. We treat your area and oriental rugs like they were our own. We understand that each rug has its own character and special cleaning needs. 
Call us today to get a quote at (905) 465-2337
Lakeshore also offers Commercial Carpet Cleaning for businesses and home offices.