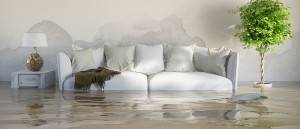 Water damage can be a four letter word that no Oakville property owner wants to hear. Your Oakville home or business can suffer from water damage at any time, day or night, spring or fall. Water damage disasters are not picky and can also happen virtually anywhere in your home.
Water damage can come from water outside, an appliance that isn't functioning properly, or broken pipes. It can be very upsetting to come home and find that you have inches of water in any area of your home.
If a big storm moves in, is your home safe from any flood water that could arise? Have you recently inspected your water heater, refrigerator, washing machine, and any pipes that are visible? These things are typically the main culprits for water leaks. As a homeowner or business owner, you are always trying to keep your home or business clean and safe. Water damage ranges from a minor inconvenience to a major catastrophe. Massive water damage can ruin the valuables in your home or office and can even make your building's structure become unstable over time.
What Do You Do When There is Water Damage?
The first thing you need to do when you have water in your home, is identify the source of the problem. Once it is found, try to turn off the water to that area of your home. Do not let the water sit for long. The longer it sits, the worse it will be. Acting fast is very important because it will limit the damage.
If you are a business owner, hopefully you have a disaster plan in place to guide you in the property damage recovery process. Either way, the first thing, you should do is call your water damage professionals. Do this as soon as you notice the water damage.
Many people think that once you have the water cleaned up the threat is gone. In reality the water damage could be worse than you first thought. The water can get into the sheetrock and into your flooring. Once there, if it is not dried completely, mold could start to form.
Mold can possibly cause health problems for your family or employees. You may have mold and not even realize it. It is not visible to the naked eye at first. It has to grow and become a colony before you even see it. Mold can start growing within the first 48 hours, rust can start to build up on metals, and wood can start deteriorating. These can all add up to big losses over time and the more damage there is, the longer it will take to repair.
Getting the Help You Need
It is very important to find someone that specializes in water damage repair and has the proper training. Lakeshore Cleaning and Restoration is trained beyond IICRC standards and has the experience needed to handle your water damage in Oakville. If you find yourself with water damage and you need the professionals, Call Lakeshore Cleaning and Restoration for all your restoration needs.