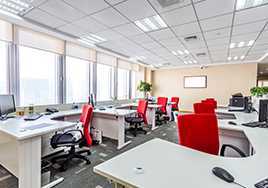 There are a wide variety of reasons why you should keep your office clean. You will notice that the moral in your office will increase when your employees have a clean environment to work in. Your office's cleanliness or filthiness also reflects a lot about your business. Lakeshore understands that you have multiple obligations when it comes to maintaining your business and cleaning may not be a priority. That is where Lakeshore comes in! There are countless benefits of having a professional perform your day to day cleaning tasks, including:
A Healthier Environment for Your Employees!
Lakeshore is skilled in properly and thoroughly cleaning, dusting, and sanitizing your office from top to bottom. There is more to providing a happy working place than simply making sure everything is in order. Our experts know what it takes in order to ensure a safe, clean, and healthier working environment.
When you try to delegate cleaning duties to your office staff, you risk the chance of lowering morale. Office workers are not too keen on cleaning bathrooms, emptying trash cans, dusting every hard surface, vacuuming, etc. Allow your workers to do what they what they perform best at and leave the cleaning tasks to the experts at Lakeshore.
Reduce Allergies and Sick Days!
Your office can become a respiratory hazard when dust starts to buildup. Thorough dusting can help ensure that your office has minimal allergens.  Our professionals also wipe down all of the surfaces in your offices reducing the risk of germs from spreading.
If your office is in need of a good, thorough cleaning and you just don't have the manpower to get it done properly, contact Lakeshore in Oakville today! Our professionals work efficiently and thoroughly and will work with your schedule.