Residential Tile & Grout Cleaning
Serving Oakville, Burlington & Surrounding Areas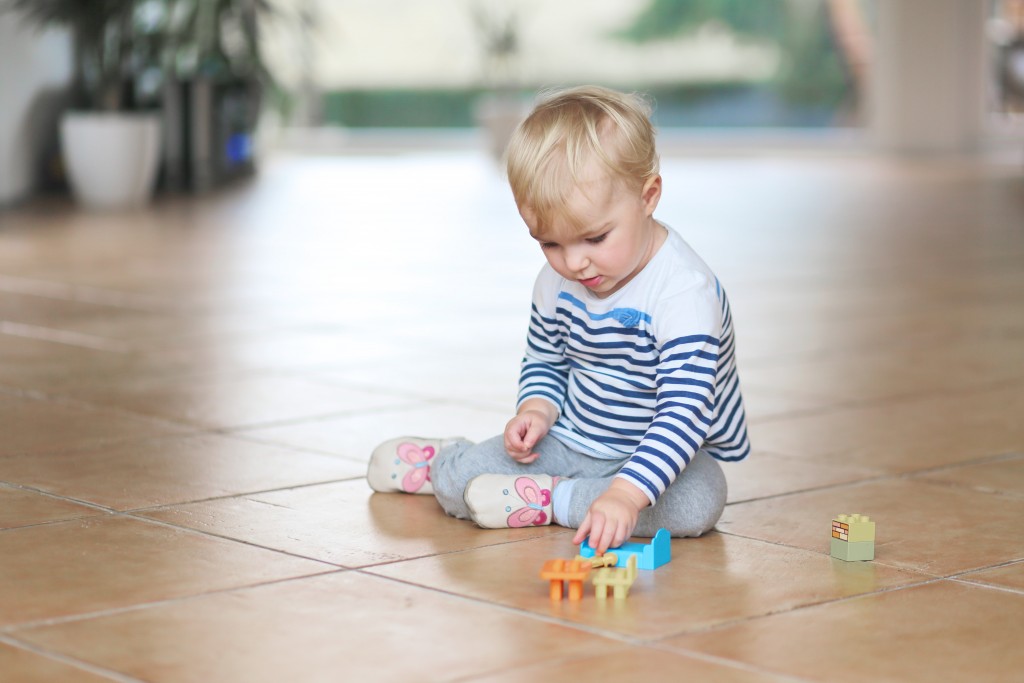 Tile is an attractive and versatile type of flooring for kitchens, bathrooms, and other parts of the house. For tile floors to look their best, they should be kept free of dirt and regularly given deep cleans.
Dingy, old, discolored, or stained…does this sound like your tile and grout? As the years tick by and your tile is exposed to water, dirt, and other particles they start to lose their shine. Even those weekly cleanings you perform are not enough to keep your tile and grout from staining or discoloration.
Trying to clean and protect your tile and grout floors in your home by yourself can be exhausting and time consuming and no one wants to spend time and money on replacing old, worn out tiles.
Do you feel like it would be a miracle if your tile and grout floors could look brand new again without replacing them?
Here are a few tips that might help in the short term.  
Cleaning tile on the kitchen floor.
The most common tile flooring, ceramic, and porcelain are a cinch to maintain. To clean, use nearly any type of cleaner, whether it is all-purpose, dish soap, or simple white vinegar—they do not scratch or lose their shine easily. Marble, slate, or granite tile floors can be cleaned in nearly the same manner as porcelain and ceramic tiles, with a few limitations:
 

Use a soft-bristled broom when sweeping natural stone tile floors, as they scratch much more easily than ceramic and porcelain.

Make sure that you are using the right type of cleaner – slate and marble tiles cannot handle anything acidic, such as vinegar, while granite tile needs a pH-neutral mild detergent to avoid discoloration.
Cleaning tile and grout in the shower.
Pre-Scrub to remove soap scum from shower doors and tiles.

 Use a dry scrubber to loosen soap scum build-up before you use your cleaning product.

Spray & Soak to Clean Mold and Mildew in Tile Grout.

Let it soak for five minutes to penetrate the soap scum, mold and mildew, in the tile grout and on the shower tile.

Scrub, Scrub!

Use the plastic all-purpose scouring pad to scrub the shower until the surface is clean.

Rinse off excess soap and cleaning products.

Use hot clean water to wash off the excess soap from shower doors and tiles.

Drying off the door and tiles is an essential step in cleaning your shower and should be something you do regularly to slow down the growth of mold, mildew and soap scum.
Get the Best Clean Ever
Sound like too much work for your busy life?
Lakeshore Residential Services can perform that miracle you were asking for with your tile and grout, carpets, upholstery, hardwood, and laminate. Let our professional tile and grout cleaners breathe the life back into your tile and grout. 
Our experts can renew your tile and grout and give it a spectacular shine that you will fall in love with. Improve the look, feel, and value of your home by keeping your tiled surfaces immaculate and stain-free.
Save time and money by trusting in our Lakeshore professionals. Give yourself the gift of beautiful and clean tile and grout by calling (905) 465-2337 and scheduling an appointment today!
Lakeshore can also clean your carpets and area rugs too!