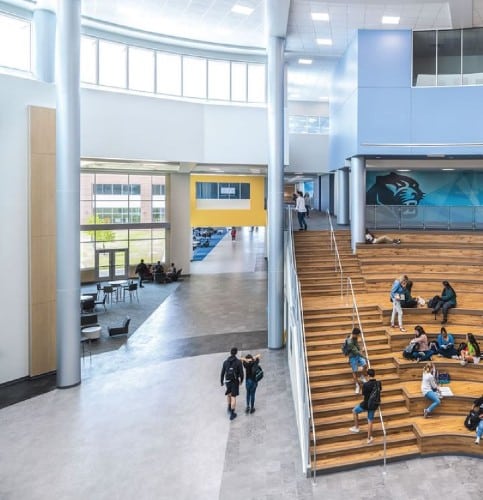 Clean air in schools and offices, is so important and begins with the surface. Right now, when we are spending about 90 percent of our time indoors, we can be exposed to more pollutants.
Indoor air can be up to seven times more polluted than the air outside. These pollutants include asthma and allergy triggers – often rising from floors and carpets into the air and easily inhaled.
Flooring at local schools contained the highest concentrations of allergens in the building–and carpets are more susceptible than smooth floors. Along with asthma and allergy symptoms, poor indoor air quality can cause other physical problems such as fatigue, shortness of breath, and headaches.
To achieve better air quality in commercial facilities, follow these steps.
Step 1: Build a Cleaning Foundation
Develop a plan to prioritize the areas that get the most foot traffic. Deep clean carpets twice a year and be sure the moisture is extracted with fans or dryers to avoid mold. Replace any carpet when required and be sure to maintain all the cleaning equipment.
Step 2: Use Correct Vacuum Techniques
Frequently vacuum both floors and carpeted areas frequently. In the heavy traffic areas you may want to clean twice a day. Remove the dirt with a vacuum rather than a mop as brooms and mops will simply push the dirt and send allergens into the air.   
HEPA-filter vacuums will reduce allergens on multiple surfaces, including tile. For peace of mind use products with certifications.
Step 3: Choose the Right Tools
Asthma and allergies are serious concerns that affect those who are indoors for long periods of time and often come from the carpet and floors. so it is important, By taking strategic initial steps, using proper techniques, and utilizing the correct products, everyone can breathe easy knowing they are providing clean air quality through vacuuming and floor cleaning.
Lakeshore Cleaning & Restoration is dedicated to keeping the businesses in Oakville, Burlington, and surrounding areas, in top-notch condition.
Contact us at (905) 465-2337