Water Damage On Your Carpets? No Problem!
We proudly service homes and businesses in Oakville, Burlington and surrounding areas in helping clean water damaged carpets.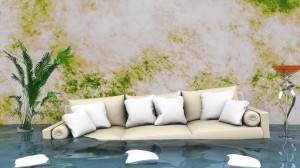 Water damage restoration has come a long way from the days of simply hoping a space will dry out. The carpet cleaning industry has evolved significantly in the last few decades and now includes 24/7 emergency response if you find yourself unexpectedly under water.
From the equipment we use to standards and best practices now set to guide restoration companies toward success, there are tried and true ways to ensure your home or business is dried completely, and damage repaired.
When a crew from Lakeshore Carpet Cleaning & Restoration comes into your home or business, we want to be sure you understand the drying process as much as possible so you are comfortable with what is happening around you. If you have a question about the restoration or drying process, don't hesitate to ask! We understand we are meeting you on what's likely one of the worst days of your life, but our goal is to have your space dried and you back on your feet as quickly as possible.
The Drying Process
 Most restoration companies are set up for an around-the-clock response. That means if you get a call at 2 a.m. that your business has flooded due to a burst pipe, you don't need to wait until morning to get the restoration process started.
First, an estimator will take a walk through your property to assess the damage. This will help determine what equipment and how many technicians will be needed for the job.
Then, the drying and restoration process begins immediately. Preliminary humidity readings will be taken to establish some statistics for the space. Tools used to measure the relative humidity are called thermo-hygrometers.
At the same time, water extraction equipment will be brought in to pull out as much excess moisture as possible from all surfaces including carpet, wall cavities, duct work, and more. Depending on the path of the water and the time it has been left sitting in a space, some items like carpet and drywall may need to be replaced. In many cases, however, these things can be dried rather than removed.
Once any excess standing water is removed, drying equipment will be strategically placed to dry all the damaged areas as quickly and efficiently as possible. Equipment will likely include air movers and dehumidifiers, and possibly heat dryers and other professional-grade drying equipment. As we mentioned before, there are industry standards for restoration companies outlining effective drying techniques and those standards include placement of equipment for maximum effectiveness.  We also usse the appropriate cleaning products to eliminate odor and bacteria build up.
Knowing the Space is Dry
Just like a relative humidity reading was taken at the start of the restoration process, more readings will be taken when they job is complete. Comparing these readings provides concrete evidence the space has been thoroughly dried.
Technicians at Lakeshore Cleaning and Restoration have been trained in the very latest drying techniques and technologies so you can rest assured one call to us means you are well on your way to a dry home or business, and life will be back to normal in no time.